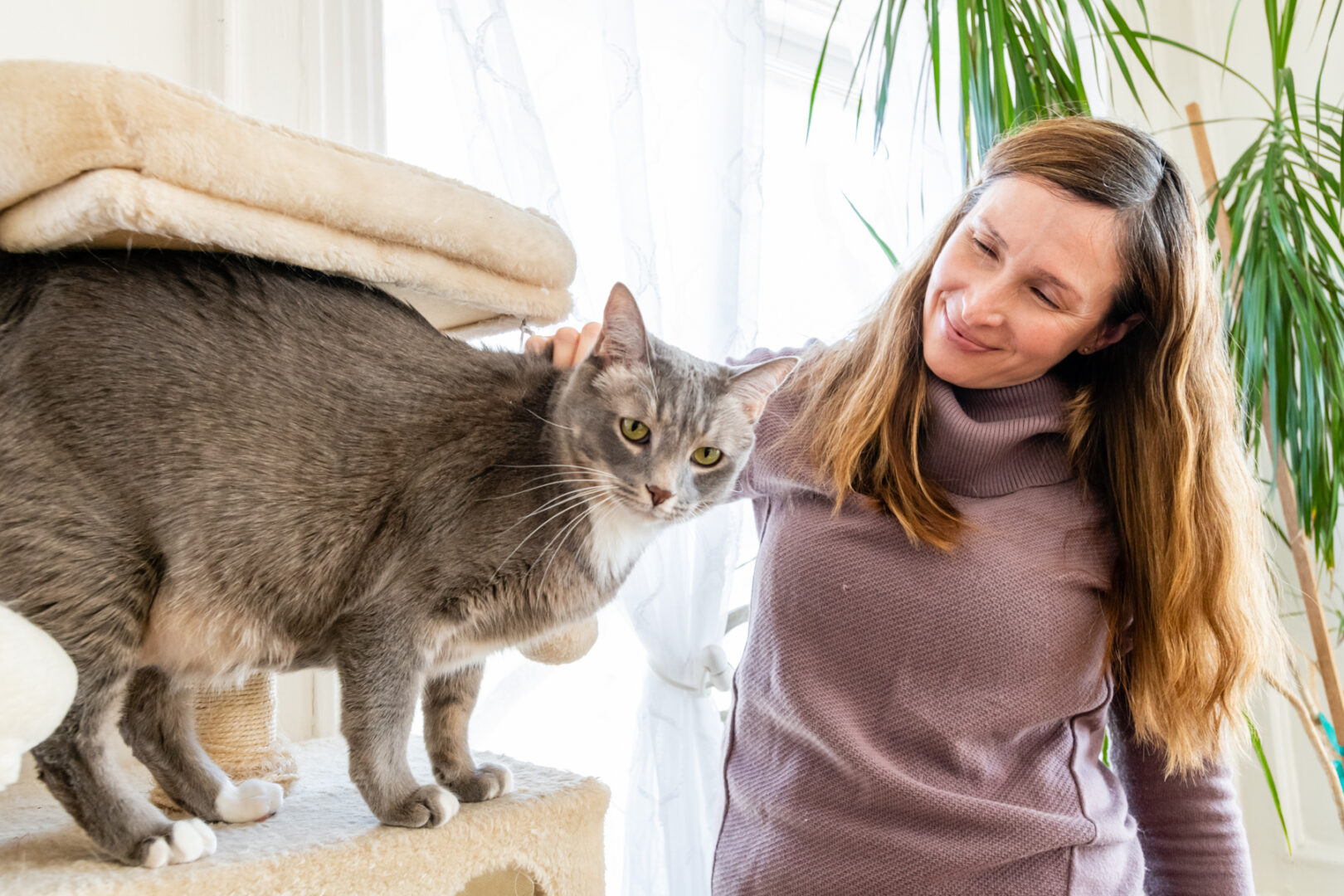 Purrfect Pawz N Palz
Cat Sitting LLC
About Our Founder & Owner
We are owned and operated by Este Cardos, a certified professional pet sitter (CPPS). Under her guidance, Purrfect Pawz N Palz Cat Sitting LLC (formerly called Pawz and Palz Pet Care) has been providing exceptional pet sitting services to pet owners in Evanston and the surrounding area since 2014.
Having grown up on a farm in Romania caring for cats, dogs, and livestock, Este developed a passion for caring for animals at an early age. 30 years later, that commitment still comes to life – as the Evanston area's premier cat sitter. As a dedicated cat specialist, she ensures that your cats get the care, attention, and love that they need when you can't be home. In addition to being a PSI – Certified Professional Pet Sitter, with training in Pet First Aid and CPR, Este is also Fear Free certified, which makes her uniquely qualified to deliver a highly specialized standard of care that involves a cat's physical and emotional well-being.
Real- Time Awesome Photos
At Purrfect Pawz N Palz Cat Sitting LLC, we are committed to living and working with integrity, to caring for your cats and homes as If they were our own, and to increasing our knowledge and training to be of better service to animals and our community.
You can trust that your cat will be taken care of by a Fear Free certified, pet first aid and CPR trained, insured and bonded cat care professional who has your cat's best interest in mind.
Our cat sitters are carefully vetted, background-checked professionals who receive ongoing training by industry experts in best practices in feline handling and care.
With our thorough experience, flexible scheduling, year-round availability, and our passionate team of pet sitters, you can rest assured that your cats will receive the exceptional care and attention that they deserve.
Why Support Your Local
Cat Care Business?

Our Evanston Cat Care Services, Service Area & Contact Form
Our tailor-made service is designed with your busy schedule in mind.
Our Pet-tastic Cat
Care Service Area
We provide services for Evanston and the surrounding area.
Contact Us for a
Paw-tastic Cat Sitter
Getting started is easy. Contact us through our Contact Form and we'll schedule a complimentary meet and greet.